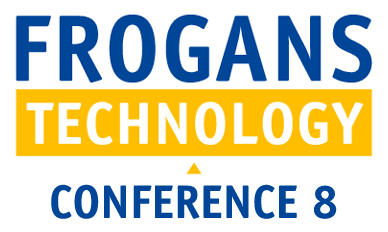 Switching to the spread of Frogans technology
Date: October 11, 2016
Time: 6 p.m. to 10 p.m. (Paris time) - 16:00 to 20:00 UTC
Venue: Telecom ParisTech, Amphi Thévenin, 46 rue Barrault - 75013 Paris (access)
Languages: English and French (simultaneous translation)
Last update: September 28, 2016
Conference program
A detailed conference program will be available soon.
Would you like to present your initiative in relation to the Frogans technology during the conference? Please contact us at ftc-registration@op3ft.org
About the conference
Frogans Technology Conferences are public events organized by the OP3FT, the non-profit organization whose purpose is to hold, promote, protect and ensure the progress of the Frogans technology in the form of an open standard for the Internet, available to all, free of charge.
Since the Frogans technology allows the introduction of a new type of site on the Internet, anyone who has a role to play in the Internet ecosystem should participate in Frogans Technology Conferences: end users, content publishers, designers, developers, hosting providers, intellectual property counsels, lawyers, trademark holders, entrepreneurs, etc.
The aim of Frogans Technology Conferences is to enable everyone to understand the challenges and opportunities provided by the Frogans technology to develop innovative solutions and/or to create new business. Frogans Technology Conferences are also an opportunity for participants to interact, promote their initiatives in relation to the Frogans technology, put questions to the people behind the Frogans project, and share a drink and a bite to eat.
The OP3FT recommends that you attend each Frogans Technology Conference even if you have already attended a previous conference since the program is always different.
Watch previous conferences
To view the program or watch a video recording of previous conferences:
Sign up to attend
Participation in the Frogans Technology Conference 8 is free, however, registration is required as seating is limited.
To register, simply send an email indicating your name to: ftc-registration@op3ft.org
The OP3FT will only use your E-mail address to keep you updated about the conference.
Live transmission
Can't make it to Paris? No problem. You can view a live transmission or a recording of the conference online.
View a live transmission of the conference: available on the top of this page from October 11, 2016, 6 p.m. Paris time (16:00 UTC)
You can participate remotely:
send an email with your questions: ftc-registration@op3ft.org
Other Web sites of the Frogans technology:


Download Frogans Player
(for developers, currently)
project.frogans.org
Welcome to the Frogans project
(available in 15 languages)
lists.frogans.org
Frogans technology mailing lists
frogans.org
The official Web site of the Frogans technology
op3ft.org
The Web site of the OP3FT